8 Best AI Chatbot for More Business Growth in 2020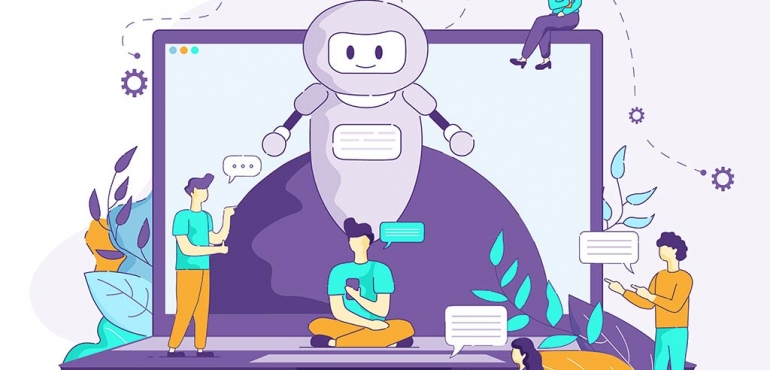 Chatbots are very useful modes of modern communication. Business setups make use of them to increase their business and profits. They are very useful in work operations.
Communications have improved tremendously these days and chatbots have become very popular for personal as well as business purposes. Web development services in Hyderabad make use of them. No doubt business setups need efficient communication modes and chatbots do the needful. They help in augmenting business and profits.
What is AI Chatbot? Let's Find Out
AI chatbot is a software program that makes use of artificial intelligence to come up with smart and interactive replies in a chat-based environment. With the help of artificial intelligence, chatbots can simulate the conversational environment which resembles natural human conversations.
MobileMonkey
MobileMonkey is no doubt an easy-to-use cloud-based AI Chatbot software solution for businesses. It does indeed help to build intuitive chatbots and can be used for various purposes, especially for social media platforms such as Facebook. With the help of this, it is possible to record and save user responses for the future.
Features:
Live Chat Stream
Analytics
Notifications
Performance Analytics
Dashboard
Data Reporting
Schedule Blasts
Aivo
Aivo provides an AI Chatbot building platform which is rather suitable for businesses of all sizes.
Its chatbot AI technology also does help businesses create autoresponders so that customers can receive relevant replies based on their respective queries. One of its key features is that it can easily be integrated with other third-party software solutions. Web development services in Hyderabad do highlight this chatbot as well.
Features:
Chatbot
Predictive Analytics
Personalization
Chat/Messaging
Content Management
Multi-Language
On-Demand Communication
Transfers/Routing
Mindsay
Mindsay is a popular AI chatbot designing software that does help companies create AI chatbots in simple steps. It allows businesses to enhance their customer support operations and is also cost-efficient.
Features:
Sequencing
Live Chat
Customization Interface
Knowledge Base
Analytics
Query Data Gathering
ItsAlive
ItsAlive helps businesses to expedite customer's query responses by setting autoresponders with the help of chatbots by detecting keywords in Facebook Messenger.
Features:
Conception & UX
Integration
Chatbot Development
Graphic UI Creation
Testing & Optimizing
Pandorabots
Pandorabots provides a comprehensive platform for AI chatbot development.
Features:
Multiple Device Support
Extensive Documentation
Training Classes
Free Web Publishing and Hosting
Web-based Development
Conversational Logs
AIML Development
Open-Source Knowledge Sets
Programmable Output formats
API Access
Boost.AI
Boost.AI is one of the best AI chatbot creator software that does help businesses create intuitive and interactive virtual assistants for their websites. With the help of conversational AI chatbot software created by Boost.AI, businesses can indeed offer quick as well as interactive support to the customers. Web development services in Hyderabad make use of it.
Features:
Sentiment Analysis
Speech Recognition
Code-free development
Virtual Assistant
On-Screen Chats
Pre-configured Bot
Reusable Components
Multi-Language
Contextual Guidance
Intent Recognition
Imperson
Imperson helps businesses to create customized AI chatbots that support text and audio messages on all major social media and website platforms.
It provides conversational chatbots for websites, Facebook Messenger, Skype, and several other platforms.
Features:
Reusable Components
NLP user intents
AI moderator
Real-time insights
Advanced Analytics
Dashboard
Customizable Chatbots
Chatfuel
Chatfuel is a user-friendly interface ideal for startups, SMEs, and agencies. Its code-free development module is, of course, apt for designing customized chatbots for businesses.
Features:
Code-free development
On-Screen Chats
Pre-configured Bot
Multi-Language
Speech Synthesis
Chatbots are available in several forms.