Top E-Commerce Payment Gateways in India Success in 2024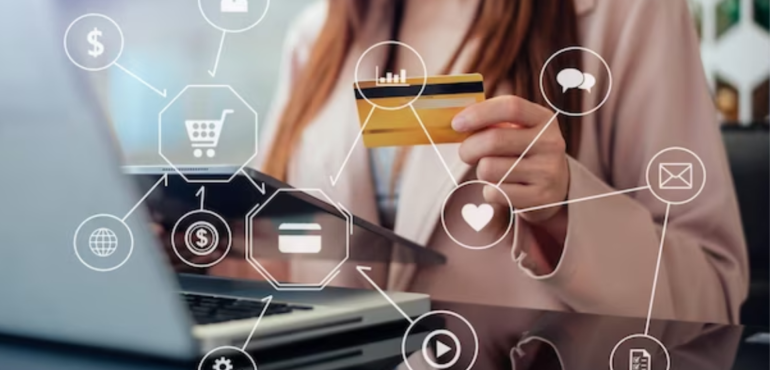 Payment gateways are an integral part of commerce, and the focus of businessmen is on e-commerce payment gateways. Business is done via these gateways, and there are many payment transactions as well.
Payment gateways serve as a vital pillar in the realm of e-commerce and online business websites. It is indeed a sophisticated technological infrastructure that does play a pivotal role in allowing digital businesses to seamlessly embrace a multitude of electronic payment methods.
E-commerce payment gateways play a vital role in business transactions.
These do encompass a wide spectrum of financial transactions that are not limited to credit card payments, debit card transactions, payments made via digital wallets, and the facilitation of online banking transfers.
How does a payment gateway work?
Entering Card Details: When shopping online and ready to pay, the person has to type in his or her credit or debit card information on a special payment page.
Secure Page: This payment page is indeed super secure. It's either completely managed by the payment gateway or, if it's on the merchant's website, the card details have to be entered by turning into a secret code right there prior to being sent to the payment gateway.
Encryption and Checks: The payment gateway does receive this secret code, and it is like a digital bouncer at the door. It does check for fraud and then passes the card details and the transaction information to the next stop.
Merchant's Acquirer: The next stop is known as the "acquirer," which is similar to the middleman between the payment gateway and the card companies (like Visa or Mastercard). The acquirer does get the details and starts the journey to the card company.
Card Scheme and Issuing Bank: Then, the acquirer does share his or her payment request with the card company (such as Visa) and then with his or her bank (the one that issued the card). The bank also checks for fraud and has the final say.
Approval or Decline: The bank decides whether to approve or decline the payment request based on several factors, including available funds as well as security checks.
Verdict Returns: The decision (approval or decline) does make its way back via the same path. It goes from the bank to the card company, then to the acquirer, and then, of course, finally back to the payment gateway.
Payment Outcome: The payment gateway does inform both the individual and the merchant whether the payment was approved or, rather, declined.
Top 5 Payment Gateways in India 2023–2024
LetsPe—the best payment gateway in India
In the bustling world of fintech, LetsPe stands out as one of India's most popular payment gateway companies. It tends to burst onto the scene in 2019 and has since earned a stellar reputation, boasting a client base of nearly 1 lakh satisfied users.
What sets LetsPe apart is indeed its commitment to simplicity as well as speed, qualities that have made it a preferred choice among businesses of all sizes, including small ventures, medium enterprises, and even freelancers and self-employed individuals.
CC Avenue
CCAvenue is indeed a top payment gateway provider in South Asia, including India, and is known for its simplicity, speed, as well as security.
It does offer a wide range of payment methods, including credit cards, net banking, debit cards, and more (nearly 200 options). It can be easily integrated into websites and apps, with mobile-friendly transaction pages for no doubt speedy checkouts.
For security, CCAvenue employs FRISK (Fraud and Risk Identification System and Knowledge) in order to ensure safe transactions. The cherry on top is that there are no withdrawal fees with this payment gateway.
CashFree
Cashfree is listed among India's most affordable payment gateways and is known for its speed as well as quick refund options.
Since its inception in 2015, it has served over 15,000 businesses. Cashfree accepts credit and debit cards, net banking, and UPI payments. It even allows funds to be collected from international sources.
An interesting service known as "Cashgram" enables businesses to generate a payment link for customers to make payments conveniently.
Atom
Atom is considered to be a rapidly growing payment gateway in India, thus serving over 150,000 businesses. It in fact provides access to 50+ banks and 256+ payment options, including credit cards, debit cards, and IMPS, with an, of course, accelerated checkout page for quicker transactions.
Security is no doubt a priority with strong encryption. Payment retries are supported, and customers do receive invoices after purchases.
Merchants can rather manage payments and traffic via merchant consoles, and Atom does offer multi-currency support and seamless integration with websites as well as apps.
Pay U
PayU, a fintech company originally from the Netherlands and now, of course, operating in 17 countries, is a top payment gateway in India. It does offer over 100 payment options, including net banking, cards, wallets, EMI, UPI, and also "purchase now, pay later." With support for more than 100 currencies, it does enable businesses to accept payments from across the world.
A standout feature happens to be the ability for consumers to customize their checkout page. PayU does provide a user-friendly dashboard to track transactions, an attractive user interface, as well as support for integration with websites and, no doubt, mobile apps.
Conclusion
Thus, payment gateways are varied.